On Monday 17th July, teachers from across Hampshire gathered at the impressive Winchester College for a day of physics workshops, generously hosted and supported by the college.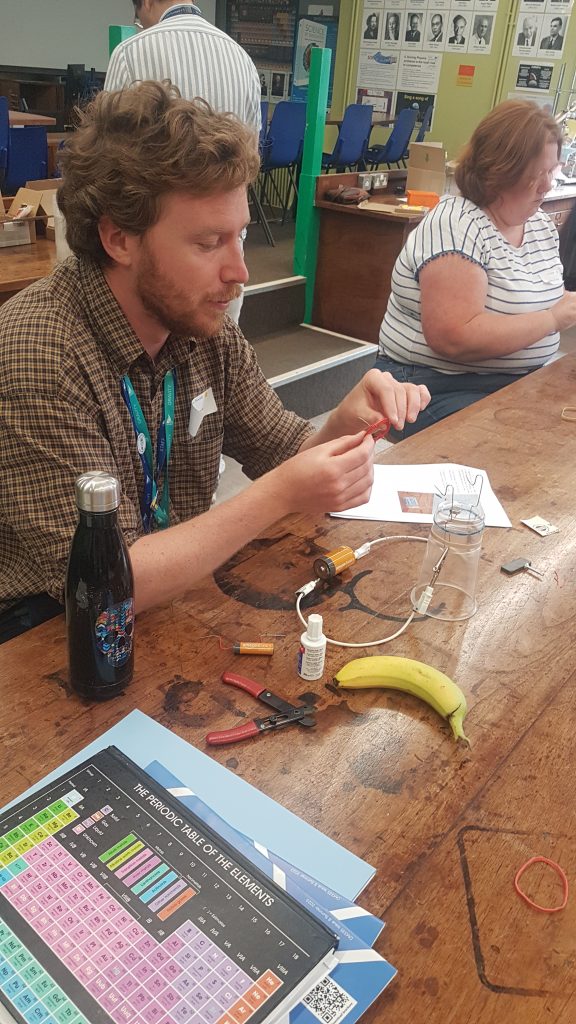 Jessica Hamer, from the Institute of Physics, started the day with an insightful and thought-provoking session on how to ensure physics lessons are inclusive to all. She encouraged participants to utilise the IOP's Limitless resources and to think about how to take a whole school approach to inclusivity, engaging with parents and governors, as well as teachers.
The group then split and Richard Grimmer had everyone busy making a motor from a disposable cup, a D cell, a neodymium magnet, two paper clips, some copper wire and an elastic band. In the lab next door Steve Hearn was demonstrating a brilliant video capture app, Vernier, that can be used to analyse a multitude of physics ideas.
After lunch, Jeremy Douglas, from Winchester College, entusiastically shared a fantastic selection of practical ideas for weaving in ideas of energy transfer and conservation of energy across the secondary syllabus. The day finished with a chance for attendees to try out lots of cheap and easy ways of sharing some of the principles of physics without having to buy lots of new kit. Jo Kent set-up example practicals using a wide variety of items you have at home, including plastic bottles, balloons, eggs and even an electric toothbrush!
Feedback on the day was brilliant and teachers left with plenty of new ideas to implement in the classroom. We are very grateful to those who made the day possible, especially our hosts at Winchester College and Trevor Plant, who organised the programme for the day. We are already looking forward to next year's event!